The Leading Prostate Health Formula
ACP Prostate Extra Strength is the most advanced prostate health supplement available. With simple-to-take intra-oral spray delivery, ACP prostate delivers greater quantities of active nutrients to targeted living cells than could ever be possible with capsules or pills.
Clinically Proven
The active ingredients in ACP Prostate have been shown to help maintain healthy prostate size and PSA levels in numerous clinical studies, and include: Saw Palmetto (Serenoa repens), Nettle (Urtica dioica), Diindolylmethane (DIM), Pumpkin seed extract (Cucurbita pepo), Lycopene, Zinc, Pygeum (Pygeum africanum), Beta-sitosterol, Tribulus (Tribulus terrestris), Peppermint Leaf (Mentha x piperita) and Natural Trace Minerals.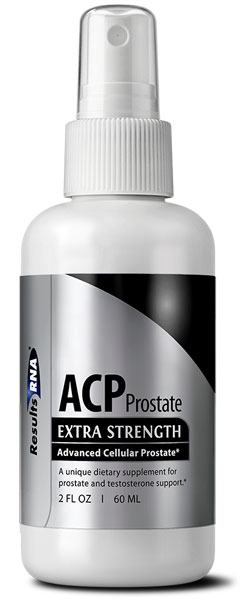 Improve Urinary Flow. Reduce Urgency
Ingredients in ACP Prostate have been shown to support a reduction in BPH (Benign prostatic hyperplasia) symptoms translating to Improved urinary flow and reduced frequency of nighttime bathroom visits.
Advanced Cellular Technology
Delivers the power of each ingredient in the most effective manner possible; achieving maximum results without stomach discomfort or side effects.* No capsules or pills, Results RNA Extra Strength Intra-oral sprays are immediately absorbed, simple to take, and have a pleasant taste. Just spray, swish, and swallow.