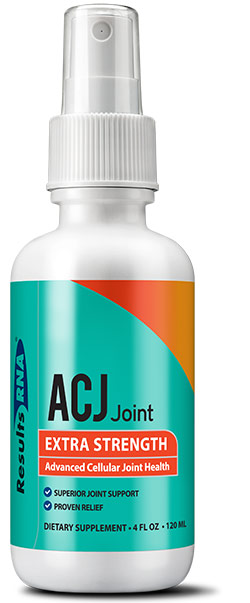 Instant Absorption. Comprehensive Support
ACJ Joint Extra Strength provides immediate absorption of vital nutrients and comprehensive support, replenishing the health of your joints and muscles with a simple-to-take, great tasting spray.
Clinically Proven Results
Hundreds of clinical studies validate this exceptional formula, which includes Hyaluronic acid, Collagen, Glucosamine, Turmeric herb, Boswellia serrata, Ginger root, Purple Passion fruit, Bornyl acetate, Devil's Claw root and synergistic mineral blends.
Advanced Cellular Technology
ACJ Joint delivers the power of each ingredient in the most effective manner possible; achieving maximum results without stomach discomfort or side effects. With Advanced Cellular Technology, ACJ Joint Extra Strength Intra-oral spray is immediately absorbed, simple to take, and has a pleasant taste with a hint of natural mint. Just spray, swish, and swallow.
Standard Dose
Take 6 sprays by mouth, twice daily.
Higher Dose
Take 12 sprays by mouth, twice daily.
Optimal Use
Spray, swish and swallow. You may take other Results RNA formulas immediately.
Do not eat or drink for 2 minutes following.
Take as recommended by your physician.
Ingredients
Hyaluronic acid, Collagen, Glucosamine hydrochloride, Turmeric Herb (Curcuma longa), Boswellia serrata (Olibanum indicum), Ginger root, Purple Passion fruit (Passiflora edulis), Bornyl acetate (Amomum villosum), Tart Cherry Powder (Prunus Cerasus), Devil's Claw Root (Harpagophytum procumbens), Peppermint Leaf (Mentha x piperita)
SERVING SIZE
Serving size: 12 Sprays
Servings Per Container (2oz/60mL): Approx. 30
Servings Per Container (4oz/120mL): Approx. 60
AMOUNT PER SERVING (2oz/60mL)
Proprietary Blend ~9000 mcg*
AMOUNT PER SERVING (4oz/120mL)
Proprietary Blend ~18000 mcg*
Purity and Quality Guaranteed:
ACJ joint Extra Strength is produced under strict GMP manufacturing controls in conformance with guidelines for dietary supplements set forth in USP XXVII. For purity and quality, ACJ joint contains no preservatives • no alcohol • no artificial coloring or flavoring.